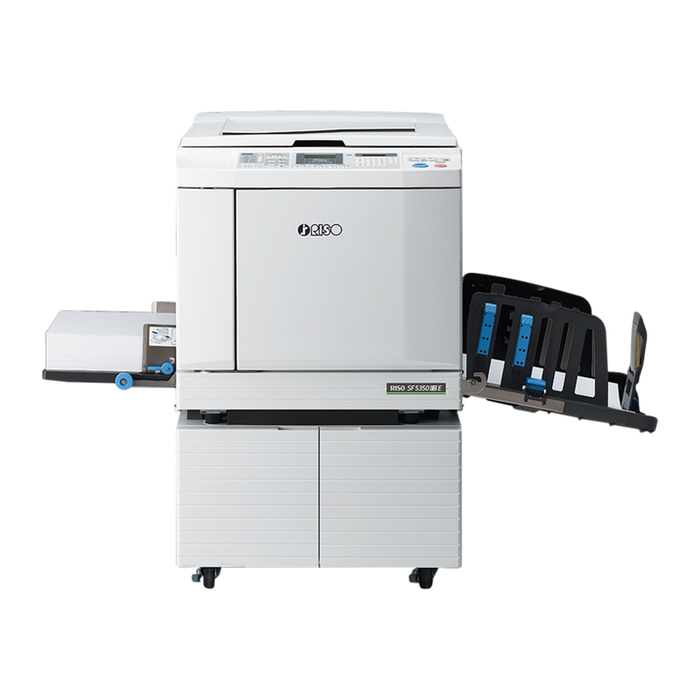 RISO SF-5030 A4 High Speed Fully Automatic Printer
RISO offers outstanding productivity through high speed and low cost.
High-speed 130 ppm printing Achieving 1000 pages printed in approx. 8 minutes. This surprisingly rapid rate will efficiently support your heavy paperwork requirements.
Overwhelmingly economical print costs The SF series makes prints from a master. As a result, the more pages generated from each master the lower the cost per print, making it highly economical for medium- to high volume printing.
Quick Master Making mode A new function, speed priority mode, shortens the master making time while still maintaining high image quality.
Heavy-load paper feeding The paper trays have a capacity of 1000 sheets* for both feeding and receiving, which ensures uninterrupted printing over a longer period.
Paper saving Page layout printing combines multiple copies of the same page, or copies of multiple pages onto a single printed page to save paper. Conveniently condense bulky multiple-page documents in an easy-to-read format. These functions are available when using the printer driver.
Versatile paper handling capability The SF series plays multiple roles, accepting a wide range of paper types such as recycled paper, coarse paper, cards and envelopes.
Easily adjustable receiving tray The receiving tray can be adjusted easily with a click feeling for each standard paper size. Improved design allows printed papers to settle in an orderly way for smooth pickup.
Functions: Original Scanning mode, Scanning Level, Enlargement/Reproduction, Dot Process, 2-Up, Book, Ink Saving, Quick Master Making, ADF-Semi-Auto*3, Speed, Density, Print Position, Program A/B, Job Separation*3, Idling, Confidential, Meter Display, Count Report Output, Proof, Direct Printing, USB Flash-via-Printing, Auto Sleep Setting, Auto Power-OFF Setting, ECO mode, RISO iQuality System
Specifications:
Master Making/Printing Methods: High-speed digital master-making/Fully automatic printing
Original Type: Book or sheet
Master Making Time:
Quick Master Making mode: Approx. 20 seconds (A4, short-edge feed)
Normal master making mode: Approx. 22 seconds (A4, short-edge feed)
Resolution:
Scanning: 600 dpi × 600 dpi
Printing: 300 dpi × 600 dpi, Quick Master Making mode: 300 dpi × 400 dpi
Maximum Scanning Area: 297 mm × 432 mm
Print Paper Weight: 46 gsm to 157 gsm
Print Paper Size: 100 mm × 148 mm to 310 mm × 432 mm
Maximum Printing Area: 210 mm × 290 mm
Paper Feed Tray Stacking Capacity: 1000 sheets*2, stacking height of 110 mm or lower
Paper Receiving Tray Stacking Capacity: 1000 sheets*2, stacking height of 110 mm or lower
Print Speed: 5 levels: 60, 80, 100, 120 and 130 ppm
Print Position Adjustment: Horizontal: ±15 mm, Vertical: ±10 mm
Image Processing Mode: Line, Photo, Duo, Pencil
Print Reproduction Ratio: Zoom (50% to 200%), Free, 100% reduction ratio, 3 levels of enlargement (141%, 122%, 116%), 4 levels of reduction (94%, 87%, 82%, 71%)
User Interface: LCD panel
Ink Supply: Full automatic (1000 ml/cartridge)
Master Supply/Disposal: Full automatic (A4: approx. 295 sheets per roll)/Disposal Capacity: approx. 100 sheets
Dimensions (W×D×H): In storage: 780 mm × 670 mm*5 × 1065 mm
Required Space (W×D×H): 1415 mm × 1240 mm × 1515 mm
Weight: 100 kg
Annual Maintenance: Annual Maintenance contract is available for an extra charge. This will cover periodic maintenance of the unit on site for a period of 12 months