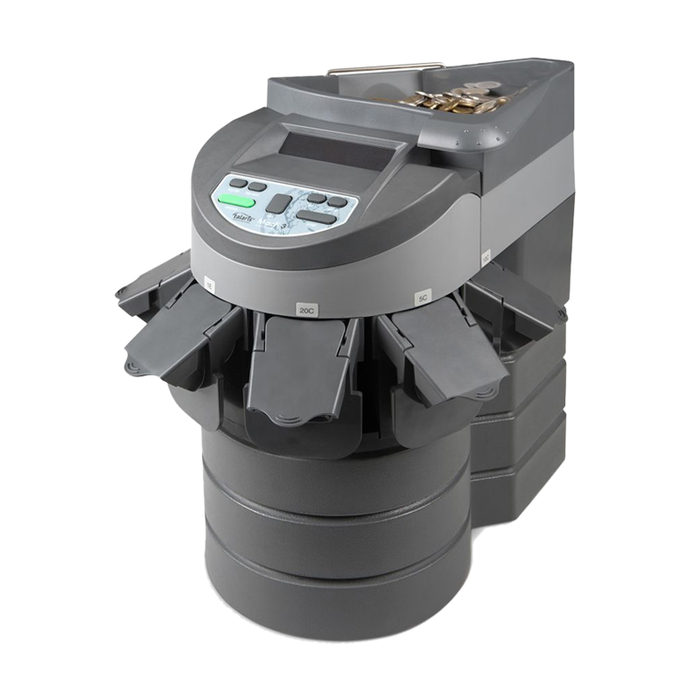 GLORY MACH 3 Heavy Duty Coin Counting & Sorting Machine
The Mach 3 Coin Counter and Sorter from Glory is a very heavy duty machine capable of sorting 6 coin types at up to 1500 coins per minute.
The result of over 100 years of cash handling experience Glory machines are the ultimate coin counters & sorters. Perfect for fast flexible and reliable high speed coin processing for Car Parks, Vending, Amusements and other high volume coin operations.
Also available with a stand and bulk bagging attachments as shown
Mach 3 TECHNICAL INFORMATION
Speed Up to 1,500 coins per minute
Coin size range
Diameter: 0.61" to 1.28" (15.5 mm to 32.5 mm) 
Thickness: 0.04" to 0.12" (1.0 mm to 3.0 mm) 
Differential: 0.02" (0.5 mm) minimum
Tilting inspection pan capacity 1,500 coins
Exact bag stops Standard
Connectivity RS232 and USB standard
Power supply 90-264V AC, 50/60 Hz
Dimensions 9.25" x 9.00" x 15.4"
Weight 16.8 lbs
Security features Lock-out security to protect operating information
 Annual Maintenance: Periodic maintenance of the unit on site is provided for a period of 12 months without any additional charges.