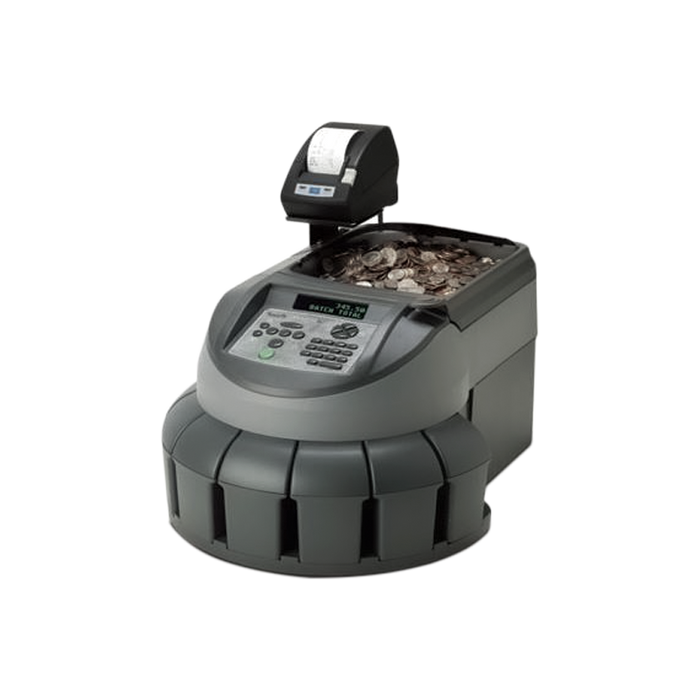 GLORY MACH 6 Heavy Duty Coin Counting & Sorting Machine
The Mach 6 is a fast, compact coin sorter/counter configurable for tabletop or higher volume applications requiring bagging capability.
Mach 6 is the perfect solution for medium size bank branches, retailers, transportation authorities and even small casino operations. Highly configurable, Mach 6 can track and consolidate management information, eliminating the need for manual reporting.
Technical Specifications:
Counting speed: 3000 coins per minute
Tilting inspection pan capacity: Up to 4500 coins
Coin feed (hopper) capacity: Up to 1500 coins
Currencies: For UAE coins only
Sorting capability: Up to 8 different denominations
Exact bag stops: Three selectable bag stops per denomination
Display: LCD, two line, alpha-numeric
Dimensions (H × W × D): 288 × 425 × 552 mm
Weight: 21.4 kg
Optional: RJ11 Printer
Security features: Lockout security to protect operating information
Annual Maintenance: Periodic maintenance of the unit on site is provided for a period of 12 months without any additional charges.