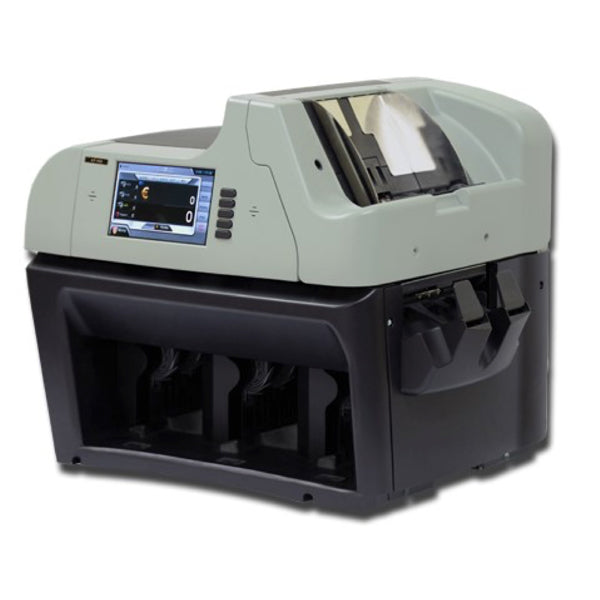 HITACHI ST-350N Smart Multi Currency Sorter & Counter
ST-350N is a smart, practical multi-currency fitness sorter and banknote counter designed for users' convenience. ST-350N is optimized for high performance, enhanced authentication and easy operation. High resolution dual CIS, High level fitness sorting, Capture and Record of OCR
Fitness Sorting (Optional)
More complete level -Designed to fitness sort and authenticate banknotes with an unprecedented level of accuracy and security
Fitness sorting for holes, tears, dog-ears, tape, soil, stains, folded, de-inked banknotes, etc.
Continuous and uninterrupted sorting -Fitness sorting and authentication with a processing speed of 700 notes per minute
Multi-currency application -Purpose designed for multi-currency, multi-level fitness sorting and authentication -
Available up to 10 different currencies
Product Specification Counterfeit Detection Full Line Magnetic Sensor IR Transmission Full Image UV Reflection x 4 Fluorescence x 4 Capacity
Operation Speed : Value Counting: 1,000 notes/min Fitness Sorting: 700 notes/min
High-speed image processing
High-resolution dual CIS
High-level fitness sorting
Capture and Record of OCR
Can be installed up to 10 currencies
Advanced counterfeit detection
Equipped with a range of counterfeit detection technologies.
Remote monitoring system by 'SIM'
Connect with SIM link
User-friendly system
Multi-user mode available
Highly visible 7" Full-color touch screen
Simple and easy operation
Easy maintenance
Counterfeit Detections: IR, UV, UV / MG
Dimensions (WxDxH): 534(W) x 454(D) x 481(H) mm
Weight: 47 Kg
Annual Maintenance: Periodic maintenance of the unit on site is provided for a period of 12 months without any additional charges.