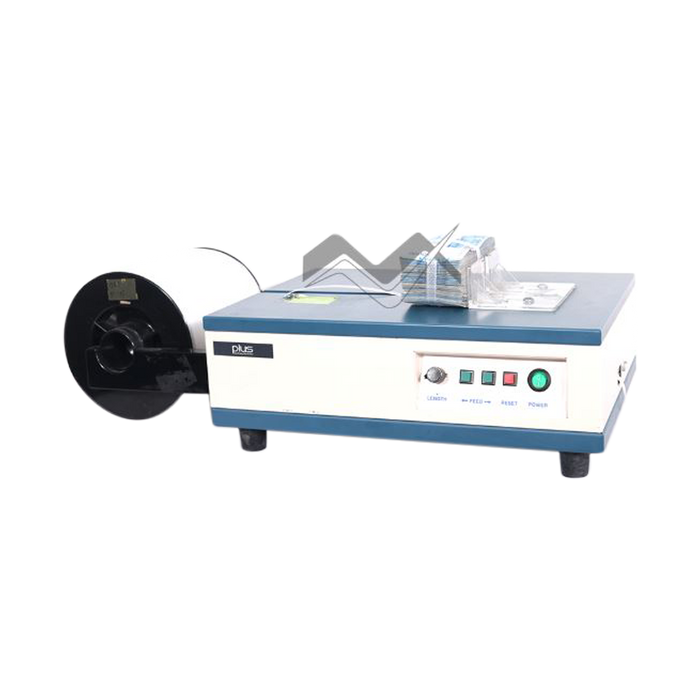 PLUS P-413 Multifunction Bank Notes Strapping Machine
Plus P-413 Multifunction Strapping Machine
The strapping machine Plus P-413 is a multifunction strapping machine equipped with user-friendly features and functionality to strap almost everything, from banknotes to mail, leaflets, and other documents. 
To accommodate banknotes and other documents with numerous size, strapping machine Plus P-413 comes with simple operations button for various adjustments:
Feed length adjustment button

Feed direction adjustment button to forward or reversed

The multipurpose strapping machine Plus P-413 is presented with advanced heating technology to ensure machine productivity and work efficiency.

Besides, this semi-automatic strapping machine also is equipped with Smell absorbing System to absorb burning plastic odors, thus improving indoor air quality in work environment.
Low-Noise Strapping
Whatever document to strap or whichever button pressed the strapping machine Plus P-413 responses to your action with minimum level of noise for a more comfortable work environment.
Flexible Strapping Band
This semi-automatic strapping machine Plus P-413 accommodate local and import plastic strapping band with 9 mm – 11 mm width from any supplier providing product of equivalent quality.
Unquestionable Strapping Quality
Despite its minimalist designs, Plus P-413 is able to strap your banknotes and documents tightly and neatly.
More Information:
Strap Width 9 - 11 mm

Tape Length Setting 20 stage band in length settings

Strapping Speed 30 ad/ minute

Tension Strength 0.6 – 10 kg

Dimensions 420 x 300 x 128 mm

Weight 20 kgs
Annual Maintenance: Annual Maintenance contract is available for an extra charge. This will cover periodic maintenance of the unit on site for a period of 12 months.