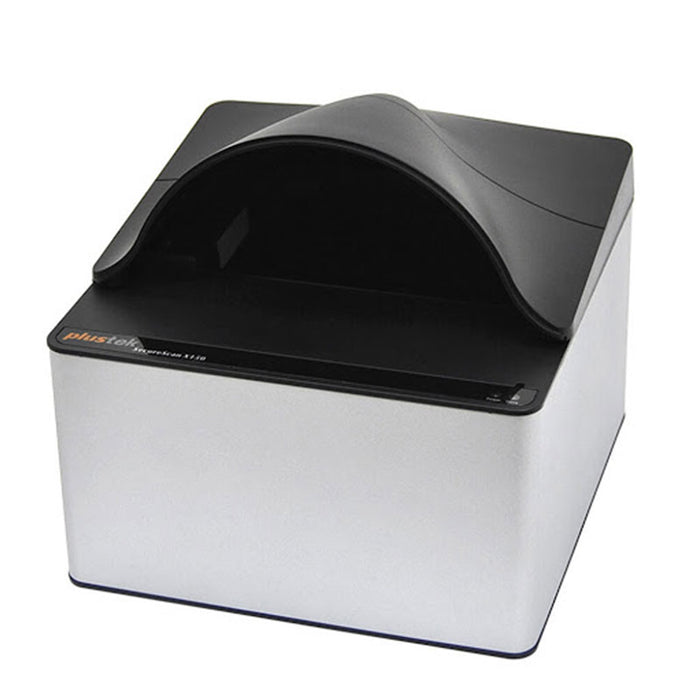 PLUSTEK SecureScan X50 Passport Scanner
SecureScan X50 takes about 1 second to scan and extract data.
Passports and IDs are automatically detected and captured. There is no need to press any buttons or click on screens.
Compliant with ICAO Doc 9303 standard for machine readable travel documents and supports TD1/TD2/TD3/TDV sized document scanning.

Image Sensor: CMOS
Light Source: White LED
Optical Resolution: 5 Megapixels
Scan Modes: Color: 24-bit Input; 24-bit Output
Scanning Speed: Approx. 1 sec (Color Mode, Full Page passport image capture)
Scanning Area (W x L): Maximum: 127 x 95 mm (5" x 3.74")
Action Button: Dual Auto Detect Sensors
Power Supply: USB Power: 5V / 0.5A
Interface: USB 2.0
Net Weight: 1.7 Kgs
Dimensions (W x D x H): Without Cover: 200 x 200 x 119 mm, With Cover: 200 x 200 x 190 mm
One year warranty : Back to base